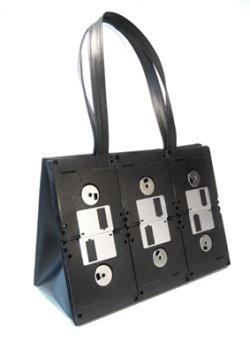 "This is a totally unique black vinyl handbag with six real 3.5" high-density 1.44MB diskettes on each side (12 x 1.44 MB = 17.28 MB total). Two snap pockets, one with a zippered change pocket, and two elastic pockets are on the walls of the main compartment. A removable, magnetic latch holds the top edges together. It can fit keys, a cellphone, an iPod Mini, a wallet, and a few paperbacks. And make you look totally sweet!
The magnetic latch that holds the top together is removable. So, if you want a super-skinny purse you can just take out the bottom liner and the latch and just use the magnetic clasps on the interior instead of using the latch. It's nice to have options in a purse!
Here's what the hangtag says:
CARRY YOUR STUFF IN GEEK-CHIC STYLE WITH A PURSE MADE FROM TWELVE (12) GENUINE 1.44 MB COMPUTER DISKETTES. ALLOCATE INTERIOR POCKETS TO MANAGE INTERNAL FRAGMENTATION. TOTAL AVAILABLE MEMORY: 17.28 MB."

Check It out here.

::VIA